The Premier Source for Gutter Installation Serving Homeowners in Cincinnati, Dayton & Across Southwest Ohio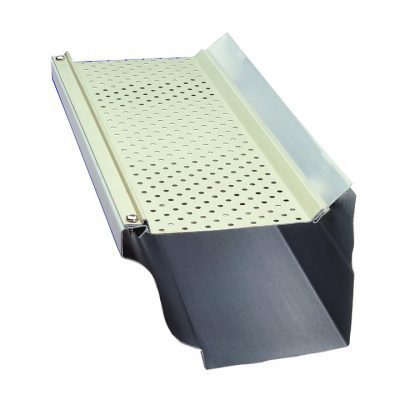 Gutters are a critical part of your home's rainwater management system, ensuring rain and snowmelt are diverted away from the foundation. Without a properly functioning gutter system, it's only a matter of time before costly problems arise. For example, you might experience wood rot or pooling water that damages landscaping. Left unaddressed long enough, leaky or improperly installed gutters can even result in damage to your home's foundation.
At Universal Windows Direct, we're proud to offer gutter installation as part of roofing or siding projects for homeowners in southwest Ohio from our locations in Cincinnati and Dayton. By providing high-performance gutters and gutter protection systems along with expert installation, we ensure our customers' homes are well equipped to deal with even the heaviest downpours.
About Our Seamless Gutter Systems
Universal Windows Direct uses high-capacity seamless aluminum gutters in our gutter installation projects. Compared with traditional gutters, which are pieced together in sections, our seamless systems are much less prone to developing leaks and clogs. And, thanks to their ultra-durable aluminum construction, they will provide decades of performance without rusting or requiring maintenance.
About Our Gutter Protection Systems
Adding a gutter protection system as part of your gutter installation project is the best way to prevent troublesome clogs. We install the high-performance Leaf Relief gutter guard system, which allows rainwater and melting snow to easily pass through to be diverted away from your home, while capturing leaves, twigs, and other debris. Not only will our gutter protection system ensure your gutters function properly, but it will also allow you to permanently check "clean the gutters" off your to-do list.
Schedule Your Gutter Installation Consultation
Do your gutters get clogged constantly? Are you tired of wasting money on gutter cleaning services or risking your safety by doing it yourself? Are you starting to notice roof, wall, landscaping, or basement damage? Stop wasting your time and money! Schedule a free, no-obligation estimate at your home in southwest Ohio today, and let us show you how seamless gutters and high-quality gutter guards can save you time, money, and future nightmares.