Patio Doors & Installation in Cincinnati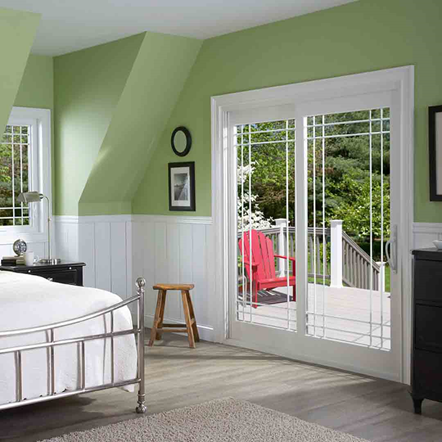 You've worked hard to turn your porch, patio, or back yard into a private sanctuary. However, if you haven't upgraded to sliding patio doors, you could be missing out on an opportunity to showcase your oasis.
Whether you opt for a sliding door or a stunning set of French patio doors, your entryway will add a touch of elegance to your home. Additionally, you can enjoy more natural light during those long Ohio winter days, brightening the corners of your living spaces and welcoming friends and family inside.
Ready to upgrade to custom patio doors? Our Cincinnati door and window installation experts can help. For a free quote, please get in touch with our Universal Windows Direct team today at (513) 755-1800.
Remarkably Weather-Resistant Patio Doors
As Cincinnati homeowners, we know you need weather-resistant patio doors that can withstand months of snow, ice, and rain. That's why we provide only the highest-quality sliding doors, French doorways, and hinged patio doors to the market..
We offer a wide range of models to suit your taste, budget, and vision, including:
Wood interior patio doors
Vinyl sliding doors
Plenty of Aesthetic Features to Choose From
Choosing the right door for your Cincinnati home isn't easy. Some big-box stores only offer standard sizes while others limit you to a few colors, hardware finishes, or styles of internal blinds.
At Universal Windows Direct, you can choose from a vast array of standard patio entry options. However, we know that some customers prefer a personalized look. With that in mind, we specialize in crafting custom entries to suit every interior.
We provide our customers with a wide range of features and finishes for their custom patio door. Options include:
Swinging door
French door set
Internal blinds
Screens
Energy-efficient glass
Windows
Interior laminates
Custom colors
Multi-point locks
For more information on a custom or standard patio door, please contact our Universal Windows Direct team today.
Expert Installation Comes Standard with Our Team at Universal Windows Direct
Did you know that the durability, quality, and energy efficiency of your sliding door depends on more than the materials and finishes you choose?
Without proper installation, your patio door can quickly become a hotbed for mold, mildew, moisture, allergens, and bacteria. In addition, inadequately sealed glass often results in an internal fog that obstructs the view of your exterior space.
When you work with our Cincinnati door experts, you won't ever need to sacrifice quality for savings. Our highly equipped team of installers will work with you to craft your custom door or windows, install them properly, and ensure that you're delighted with your upgrade before we leave your home.
Ready to install a new patio door in Cincinnati? Dial (513) 755-1800 today to contact one of our team members at Universal Windows Direct and request a free quote for your home. Ask about our window installation services, too!
Universal Windows Direct, Cincinnati, OH – FAQs
On average, homeowners could pay as low as $2,000 and as much as $12,000 to install or replace their patio doors in Cincinnati.
While every project varies, French doorways typically cost 10-20% more than sliding glass doors. That said, the cost varies based on your preference, the size of your entries, and whether you intend to customize your installation.
Installing a sliding patio door can cost anywhere between $1,200 and $10,000, depending on the scope of the project. Most Cincinnati installations cost between $1,500 and $3,000 not including the product.
Choosing the best type of door for your home depends on several factors, including taste, preference, energy efficiency needs, space, and budget. Both patio and French doorways can improve the overall aesthetic of your home while allowing more natural light to enter your rooms.
However, French doors typically demand a higher budget and more space to open and close. On the other hand, sliding doors usually require less maintenance and work well for homes with limited space.