The Go-To Exterior Home Improvement Contractors in Dayton, OH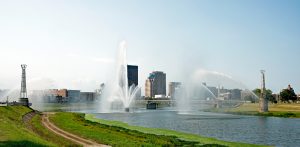 Homeownership can be both rewarding and challenging. It's wonderful to have a place to call your own; however, keeping it in good repair can sometimes be a hassle. That's why it's so valuable to have a home improvement contractor that you can trust to prioritize your best interests above its own bottom line as well as a great value on premium products. That's exactly what you can expect from Universal Windows Direct. Based outside of Dayton, we are the area's best home remodeler with a reputation for providing exceptional value on these upgrades:
Window & Door Replacement
Universal Windows Direct is the only source for top-of-the-line Unishield replacement windows and patio doors. These products are ideally suited to the climate in southwest Ohio, as they have advanced features to provide best-in-class energy efficiency, durability, and beauty. Indeed, thanks to low-E glass coatings, insulated frames, and multi-glass panes in addition to other insulating components, our windows and patio doors will help keep your home comfortable while potentially making it more energy-efficient. Best of all, they are backed by an unbeatable double lifetime warranty to give you complete peace of mind.
Additionally, as your window and door replacement company, we can provide entry doors from the celebrated manufacturer ProVia. These doors—made from ultra-durable fiberglass or steel—will provide a lifetime of security and energy efficiency. Plus, you can customize every component to suit your unique sense of style.
We will equip your home with a premium shingle roofing system from the trusted brand Owens Corning. These advanced shingles are perfect for protecting your home from rain, wind, ice, and intense sun for decades without requiring maintenance and repairs. And, because we are an Owens Corning Preferred Contractor, we can provide better warranties than our competitors.
Siding Replacement
Sourced from leading brands, our insulated vinyl siding is perfect for protecting your home while also increasing its energy efficiency. You can also choose from a variety of attractive styles and colors for your siding replacement to rejuvenate your home's curb appeal.
Gutter Installation & Gutter Protection
As part of your roofing or siding project, we can install high-performance gutters and gutter guards. Our seamless gutters provide high-capacity rainwater management while our gutter protection system will prevent the need to ever again climb a ladder to clean your gutters by hand.
Learn More
The local home improvement contractors at Universal Windows Direct are eager to help you make the most of your upcoming exterior remodeling project. Contact us today to schedule a free consultation at your home in the Dayton, OH, area.
Suite J
West Carrollton, OH 45439