Long-Lasting Seamless Gutters Installed on Dayton, OH, Homes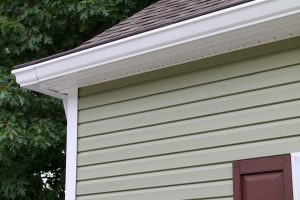 If the gutters on your Dayton, Ohio, home aren't doing their job in channeling water away from your home, it's time for a gutter replacement. That's where Universal Windows Direct can help. We are an experienced home improvement contractor that installs high-quality products, and our seamless gutters are no exception.
Industry-Best Gutters
If you're looking to purchase gutters that will provide the best performance at your home, seamless gutters are the way to go. These systems are cut on site in one continuous piece, eliminating the need for weak seams throughout the system. This means there won't be spots where water can leak, keeping water flowing through your gutters as intended.
We can also outfit your new gutter system with gutter guards to keep leaves and other debris from clogging up the channels. This will eliminate the need for manual gutter maintenance once and for all, making this an investment that will continue to pay off for years to come.
Expert Craftsmen
All of our seamless gutter installations are completed by our trained technicians. These professionals use industry best practices to ensure each project is completed flawlessly from start to finish, ensuring top performance.
Ready to get started with your gutter project? Contact the home improvement professionals at Universal Windows Direct today to speak with a member of our team. We'll gladly help you schedule a consultation to learn more about having seamless gutters installed on your home in Dayton, OH. We can't wait to hear from you!