Siding Replacement by Seasoned Professionals Serving Dayton OH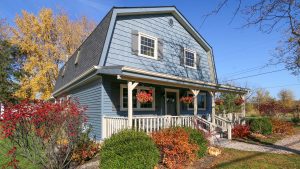 A siding replacement is no small job. The siding on a home has a tremendous impact on its curb appeal and also protects it from the elements. So, if you find yourself in need of new siding for your home in the Dayton, Ohio, area, it's critical that you partner with a company you know can get the job done right. Thankfully, there's Universal Windows Direct. We specialize in a range of exterior home improvement jobs, and siding replacement is among what we do best. We'd be happy to provide you with new house siding that will perform for decades to come.
Siding Replacement Benefits
We install premium vinyl siding that our customers love. This industry-leading product is crafted from the best available materials and offers all the benefits homeowners look for in their siding, such as:
Durability – Our vinyl siding won't rot, chip, peel, or otherwise deteriorate over time.
Energy efficiency – Vinyl siding provides great insulation for homes, so you may even benefit from reduced energy costs.
Customizability – You'll be able to choose the perfect color and style siding so that your home reflects your unique sense of style.
Affordability – Vinyl is one of the more cost-effective siding replacement options, allowing you to update your home without breaking the bank.
Contact the experts at Universal Windows Direct today to speak with a member of our team about investing in new siding for your home. Our siding replacement services are available to homeowners in the Dayton, OH, area.