Have Seamless Gutters Installed on Your Dearborn, IN, Home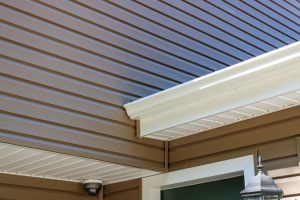 Do your gutters leave water pooling around your home's foundation? If so, it's time for a gutter replacement to prevent costly water damage. For the best gutters on the market, turn to Universal Windows Direct. We install industry-leading seamless gutters for homeowners looking to get the biggest return on their investments. Our seamless gutters will provide decades of dependable performance at your home, especially since they'll be installed by our trained and experienced technicians.
About Seamless Gutters
Our high-capacity seamless gutters are the ideal choice for your home thanks to their exceptional performance. Traditional gutters are pieced together, leaving seams throughout the gutter system where debris can collect and water can leak. On the other hand, our seamless gutters are cut onsite to the precise length required for each home, so there aren't any seams throughout the entire system.
Our seamless gutters are crafted from strong aluminum materials that will stand the test of time in the face of inclement weather. And to prevent the need for manual gutter cleaning, we can install gutter guards on your new gutters to keep them free of leaves and all other kinds of debris for years to come.
Now What?
Are you ready to invest in your Dearborn, IN, home by having new seamless gutters installed by local industry experts? If so, then get started today by contacting Universal Windows Direct to schedule your initial consultation today. A member of our team will be happy to assist you!