Installing Elegant French Patio Doors for Homeowners in Darke, OH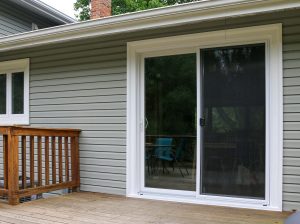 Think about your patio doors for a moment. What comes to mind? Are they difficult to open? Is the glass scuffed or scratched? If you answered "Yes!" to either of those questions, it's time to replace those old patio doors. At Universal Windows Direct, we suggest upgrading to the style and ease of French patio doors. For decades, we have been assisting homeowners like you in their home improvement projects, helping to add value and curb appeal to their homes with our selection of industry-leading products. We proudly serve Darke, Ohio, and surrounding communities.
You'll Love French Patio Doors!
French patio doors are comprised of two hinged doors that swing outward to your outdoor living space rather than sliding. In addition, our French patio doors have attractive wood interiors that can be customized to match the existing aesthetic of your home. As a result, you'll benefit from their warm, inviting appearance inside your home while the doors' exterior remains strong in the face of inclement weather. These doors are the ideal upgrade to make, helping to transform the portal to the outdoor living space at your Hamilton, Ohio, home into a more stylish and functional spot.
Our expert technicians will install your French patio doors according to our high standards for quality to ensure they perform as intended for years to come. For your added peace of mind, you can rest easy knowing your investment will remain backed by an ironclad warranty well into the future.
Get Started Today
Contact Universal Windows Direct today to learn more about our French patio doors and the benefits they can offer you. We are proud to serve homeowners throughout the Darke, OH, area.