Full-Frame vs. Pocket Window Replacements
Feb 11, 2022
You have a few choices to make when replacing your windows, the first being whether you want a full-frame or pocket window replacement. Each option comes with distinct styles, shapes, sizes, and aesthetics.
The right option for your home will depend on the condition of your existing windows, your budget, and more. Our experts put together this comparison guide on pocket window vs. full-frame window replacements to help you make an informed decision.
Differences in Technique
Pocket Replacement Windows
Pocket installation offers a fast and easy way to update any existing window frame. A professional practice is removing the old window sashes and cleaning the frame. After they scrape away any obstructions, like dirt or old caulking, they'll preserve the inside stops for the new window frame.
Then, the installer will place the replacement window insert into the existing frame and apply shims, caulk, and screws before reinstalling the inside stops.
Full-Frame Replacement Windows
Full-frame installation takes more time and effort than a pocket install. Your contractor will need to remove the entire window, including the casing, exterior trim, glass, and sashes. If the current window frame has any moisture damage, they will need to fix that too before putting in the new window.
The intensive installation process does have its advantages. Full-frame installation allows you to change the size or type of window, customize your frames, address issues like air leakage, and more. However, keep in mind if you want to change the size or shape of your window, your installer may need to alter the rough opening for the new window, which will increase installation costs.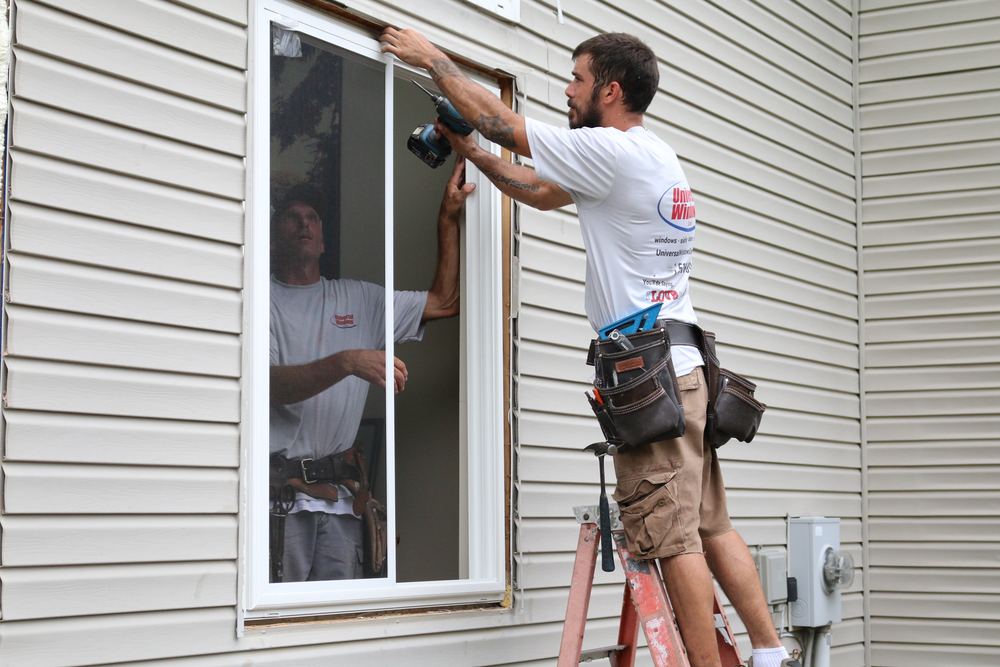 The Pros and Cons of Pocket vs. Full-Frame Replacements
Pocket Replacement
Want to save time and money on your replacement windows? Pocket replacement is the way to go. The pocket window installation method is less complicated than full-frame window installation, leading to faster installation times and lower labor costs. With pocket installation, you could be enjoying your new windows in as little as a day.
An insert window also preserves the original frame. The interior of the existing window and the exterior trim remain untouched, helping to maintain your home's aesthetic. Even so, a pocket install window does have some drawbacks, such as less glass surface and a shorter lifespan than a full-frame model.
Full-Frame Window Replacement
Full-frame installation has a laundry list of benefits. It allows your contractor to inspect the existing window frame for degradation and water damage, preventing many common window issues. A full-frame replacement window also won't compromise your viewing area as there's no glass loss.
Overhauling your existing windows can also improve your home's energy efficiency. Your installer can correct lingering issues with your older windows, such as leaky seals, that allow for heat transfer.
However, despite these benefits, some people prefer insert replacement over full-frame replacement because the latter has a higher price point and requires more time to install. Also, it is important to mention the potential for mistakes that may compromise the structure of the home.
How Much Glass Area Will I Lose?
Depending on the replacement method you choose, you may not lose any glass area. Full-frame window installation involves replacing the entire frame. After the contractor puts in the new windows, you won't notice any difference in the glass area.
The same can't be said for pocket window installation. The window frames go inside your existing frames, which obstructs a minute portion of the visible glass. This effect doesn't actually significantly affect window size, but it will make your windows appear smaller.
Making a Decision
Ready to upgrade your windows? Contact our team at Universal Windows Direct today. Our experts will take the time to understand your goals and budget to develop a tailor-made solution for your home. It's why home and business owners across Southwest Ohio trust us for their full-frame and insert window replacement needs.
Frequently Asks Questions
Pocket replacements may be a better option for your home than full-frame window replacement. For instance, they work well if you're on a tight budget. The installation process costs roughly half the price of full-frame window installation.
They're also the superior choice if you're in a time crunch. The quick installation process can make a world of difference if you're prepping your house for sale or renovating a recent purchase.
Yes, you can replace an existing window without removing the entire frame. However, pocket window installation only works if the window frame meets specific criteria. For instance, it must be flat, level, and free of pre-existing rot. If you have a shaky window frame or inadequate insulation, consider getting a full-frame replacement window instead.
A window pocket refers to the inside of an existing frame. When professionals install a pocket window replacement, they're putting the new frame into the old one. This process, also known as insert window installation, allows you to maintain the previous windows' existing look and operating style.
Casement pocket windows have hinges that attach to the frame so that you can open them to the left or right. These windows also have a handle that lets you crank open the window. This design makes it easy to adjust the airflow in your home without lifting or closing sashes.
If you want better energy efficiency for your property, casement pocket windows are an excellent choice. The design comes with a tight seal, making them one of the most energy-efficient window types on the market. Many models also have screens to keep pests and insects from getting indoors.