Whats The Difference Between Single And Double Hung Windows
Feb 14, 2022
Single Hung Windows or Double Hung Windows?
The big difference between a double hung window and a single hung window is in the operation. The window frame that holds the glass is what you call a "sash," and that's where the difference comes in. The upper sash on a single hung window is stationary. Essentially, it's fixed in place, and only the lower sash moves vertically.
 Both the upper and lower sashes move both upwards and downwards on double hung windows and then tilt in and out for easy cleaning, even on the window's exterior. It's this ease of operation that makes the double hung window style such a popular choice for homeowners, especially compared to fixed windows that have no moveable upper sash.
Typically, you can find single hung windows in apartment buildings (particularly on high-rises) or even on historic homes since they add a touch of authenticity. On the other hand, the double hung window style has a bit more of a contemporary or modern feel to it and is more prevalent with newer homes.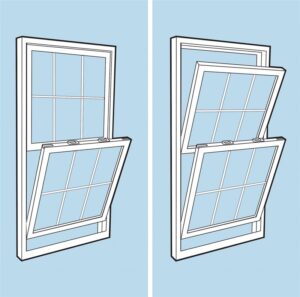 Single Hung Windows Are More Common Than Double Hung Windows
While double hung windows have many benefits, if you're considering window replacement or a remodel, single hung windows are definitely the more common choice. That's because they're the least expensive option, which is a draw for many homeowners with a tight budget.
Single Hung Windows Are More Common Than Double Hung Windows
Some homeowners shy away from double hung windows because they're more expensive than single hung windows. However, this is because they're much easier to use and clean with their two moveable sashes.
They also provide excellent ventilation for your home. Why? It's because of the moveable upper sash, which makes a big difference when it comes to cleaning and general maintenance.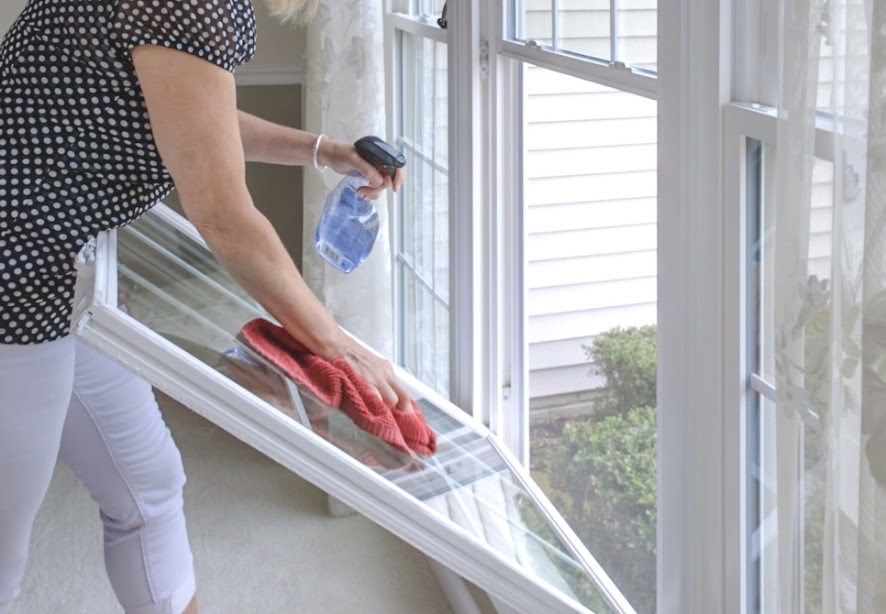 Single Hung Windows Can Be Difficult to Maintain and Clean
Many homeowners choose single hung windows because they're cheaper and have lower installation costs, but there's a drawback: they're not as easy to wash as double hung windows, which have two moveable window frames instead of one.
Since the sash on the top edge is stationary, it's not as easy to clean this window style unless it's on the ground level. Single hung windows placed on upper stories require a ladder for a thorough cleaning. That's a dangerous job for any homeowner.
Double Hung Windows Offer More Ventilation
If you live in a warm climate, you're definitely going to want to consider double hung windows. The operable sashes on these windows are easy to use because they slide up and down and tilt in and out, too. That provides much more ventilation and air flow for your home than if you have single hung windows.
Remember that the single hung style has fewer moving parts, with only the bottom panel sash sliding up and down. All that improved ventilation in your home means you get a ton of fresh air, which helps to prevent things like mold and mildew growth, which are considerable health risks.
Since both window frames and sashes open on a double hung window, the cool, fresh air flows in right through the bottom half, and the warm air flows out through the top. That's why it's so efficient.
Single Hung Windows Are More Energy-Efficient
Are you looking for energy-efficient windows? If so, then you should consider single hung windows. Since the top sash doesn't move, you might get less ventilation, but you get improved energy efficiency and insulation. On the other hand, double hung windows (essentially, slider windows) sometimes don't seal properly after a few years of use, so you may have the problem of warm or cold air infiltration after a while.
Whether you have single hung windows on the upper floor or on the first floor, they're incredibly energy efficient and will help you save money on your energy bills.
Double Hung Windows May Not Be as Secure if Not Shut Properly
If you have small children or pets, you may want to consider something different from the double hung style. Due to the nature of this window style, if the top edge doesn't seal correctly, gravity can push it downwards and cause the lock to pop out of place, leaving the window unlocked. If you have double hung windows on the first floor, this may be a problem.
On the other hand, single hung windows may not always be safe for small children and pets. Since the sashes at the top don't open, many people leave the bottom open. That's a dangerous practice that could result in a child or pet falling out the window. Using a double hung style means you can leave the top open for fresh air while keeping the bottom closed safely.
Double Hung Windows Are Available in a Wide Range of Styles
One of the main reasons that double hung windows are one of the most popular window styles is that they're available in a wide range of colors, finishes, and trims — virtually every style you can dream up. The most common materials include wood, vinyl, aluminum, and fiberglass.
You can choose any color you want for the interior and exterior finishes, including the sashes and frame. Sometimes, you can even get added features like UV protection or a custom design. So, whether you want a plain picture window or something a little more fancy for your home, you're sure to find something you'll like.
Frequently Asked Questions
Many homeowners use double hung windows because the top sash opens, providing extra ventilation and making it a cinch to clean the window glass. They're also a popular choice because they come in a wide selection of styles that are sure to complement both the interior and exterior of your home.
Generally, single hung windows tend to be more affordable than double hung windows. Also, installation costs are lower. That's because a single hung window has a top sash that doesn't move, making it easier to manufacture and install since there aren't as many moving parts.
These two windows and their unique styles mean that there's no clear answer as to which is better. It all depends on what kind of window style you want for your home. If you prefer an upper sash that doesn't open and you want increased energy efficiency, choose the single hung window style. For increased ventilation, consider getting the double hung window style instead.
If you want to add a modern aesthetic to your home, double hung windows are definitely worth it. The moveable top sashes are very easy to clean, and these windows are available in virtually endless styles. Plus, you get excellent ventilation!
Contact Universal Windows Direct Today
For high-performance windows, doors, gutters, roofing, or siding for your home, we've got you covered here at Universal Windows Direct. We provide fast and affordable installation and replacement services for windows and doors. Just give us a call at (513) 755-1800 for a free, no-obligation quote.