How Much Does a Double Hung Window Replacement Cost?
Feb 11, 2022
Double-hung windows are among the most popular window types in the U.S. If you need to replace one of your windows, expect to pay between $550 all the way to $3,000. That includes the cost of the window plus labor and warranty. Our in-depth cost guide will help you navigate your next window replacement project like a pro.
Overview of Double-Hung Window Prices
If you're replacing double-hung windows, consider investing in a top-rated brand. Some of the biggest names in the industry include Andersen, Loewen, Pella, and Ligard Tuscany.
Here are some window cost averages for popular brands:
Loewen Wood Double-Hung – $982
Harvey Vinyl Double-Hung – $550
Ply Gem Premium Double-Hung – $525
Simonton Double-Hung – $520
PGT Aluminum Double-Hung – $615
Andersen 200 Double-Hung – $480
Milgard Tuscany Vinyl Double Hung – $545 to $675
Alside Century – $550
Pella Vinyl Double-Hung – $500
Jeld-Wen Vinyl Double-Hung – $550
Remember that installation costs vary by brand. The average replacement cost for Andersen 200 windows is approximately $480, making it the most affordable option on the list. Meanwhile, Harvey and PGT aluminum double-hung windows cost nearly $600 per window for the product alone. The prices shown above are average prices that will fluctuate depending on the size and other options per window. These prices do not include labor, warranty, or any other type of service that a true full service window replacement company would provide.
Double-Hung Window Features and Options
Standard Windows
After determining your window type and style, you need to choose a size that fits your existing window frames. Most manufacturers sell standard windows 24 to 48 inches in width and 36 to 72 inches in height.
Standard windows could come in different styles, but you'll have a shortage of options when looking at different materials, finishes, and glass accessories. However, standard windows are more affordable than custom options because they take less time and fewer resources to manufacture. Keep in mind, every home is different, that's why here at Universal Windows Direct every single window is custom made to fit every single opening of your home to a fraction of an inch.
Custom Windows
Do you have a distinct vision for your home improvement project? If so, you might benefit from custom windows. These one-of-a-kind treatments allow you to put your figurative fingerprints on your home. That way, your double-hung windows are as unique as you are.
Custom windows offer tremendous flexibility. For instance, you can have customized tempered glass or opt for glass block windows, both of which are more durable than standard glass. That flexibility comes with a cost, though. Manufacturers charge more for custom windows, especially if you want a size that they don't usually produce.
Materials
The window frame material has a sizable impact on window replacement costs. Many homeowners opt for vinyl because of its traditional appearance and reasonable price tag. Wood replacement windows are also popular, even though they cost more. Wood windows last longer when properly maintained and hold up well against corrosion, debris, and pests. However, the biggest drawback with wood windows is that through the pass of the years this type of windows will rot, it is not a matter of if but when it will fail. Also, proper maintenance for wood windows often results in outrageous amounts of money and time. Some other window frame materials include aluminum, composite, and fiberglass. Composite is a mixture of wood and PVC and serves as a popular alternative for vinyl. It's another affordable option and has an energy-efficient design, allowing you to save on heating and cooling expenses.
Color and Finish
Vinyl and fiberglass windows come in a wide range of colors, making it easier to find replacement windows that fit your home's existing style. However, note that you can't paint a fiberglass or vinyl window. Manufacturers infuse the color into the window frame material to minimize the appearance of scrapes and scratches.
Wood has a rustic appearance and comes in shades of yellow, brown, and red. If you invest in natural replacement windows, you can repaint the wood any color you want. Choosing windows with a factory finish will drive the overall window replacement cost up, but will increase the professionalism and overall quality.
Locks and Hardware
Most double-hung and single-hung windows have a locking latch. This mechanism holds the upper and lower sash in place while the sash lift lets you open the window. Some other hardware options for your new windows include:
Cranks – You can operate casement and awning windows with a crank. The device typically has a non-metallic finish, with new models featuring cranks that fold away from the window covering.
Hinges – High-quality hopper, awning, and casement windows have hinges that make it easy to clean between the window frame and sash.
Counterbalances – Double-hung windows use counterbalances that run throughout the frame's interior. Both new and traditional windows incorporate torsion screws, retractable sash cords, and springs as counterbalances.
Sliding hardware – Sill tracks allow you to open or close your vinyl and aluminum replacement windows, thanks to heavy-duty rollers on the tracks.
Glass, Grilles, and Screens
Glass can make a dramatic difference in your home's energy efficiency. Window replacement experts estimate that double-pane windows can make your house 24% more energy-efficient if you live in a cold climate. Meanwhile, homeowners in warm climates can reduce their energy usage by 18% during sweltering summer months.
Triple-pane windows offer even more savings. A triple-pane replacement window can boost energy efficiency by 15% to 40% compared to windows with two panes. Additionally, impact-resistant glass, also known as hurricane windows, can reduce the odds of chips and fractures if you live in a storm-prone area.
While window grilles don't offer a functional benefit, they can enhance your home aesthetic. The narrow strips of metal, vinyl, or wood cover your entire window with a pleasing design. You can apply them to bay, casement, double-hung, and single-pane windows.
Window screens provide an extra layer of defense against the elements. They regulate heat and sunlight, making your home more energy-efficient while keeping pests and insects outside when you open a window. You can apply screens to any window type.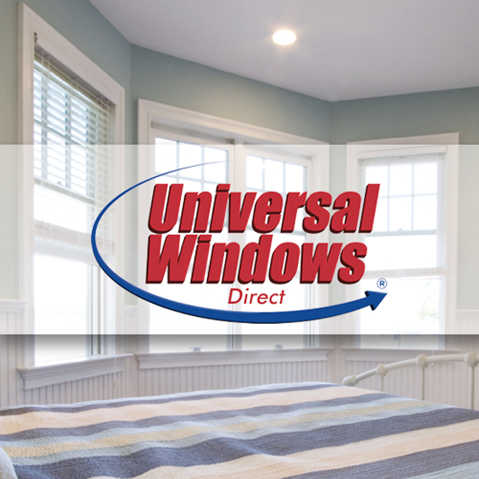 Pros of Double-Hung Windows
Ease of Cleaning
The last thing you want after finishing your home improvement project is a lot of cleaning. Double-hung windows work well for those who want to minimize their time spent with window washing fluid in one hand and a paper towel in the other. Since double-hung windows have two sashes that can tilt inward, you can clean both sides from one spot.
A double-hung window replacement also eliminates the need for ladders and scaffolding. You don't have to scale the side of your house or use long-handled cleaning tools to wipe down the outside of your windows.
Energy Efficiency Benefits
Double-hung windows cost more than single-hung windows, in part, because of their superior energy efficiency. They can reduce your heating and cooling costs, allowing you to lower your energy bills year-round.Double-hung windows are one of the most energy-efficient window types on the market.
You'll save money on heating and cooling primarily thanks to superior ventilation. A double-hung window has two movable sashes, allowing you to adjust the airflow with ease. As long as you have a screen inside the frame, you won't have to worry about insects or pests coming indoors, either.
If you have a single-hung window, you don't have this flexibility. This window type only has one ventilation point. Double-hung windows also come with vent locks for enhanced protection. You can lock the double-hung window in place, preventing forced entry while keeping small children safe.
Versatility
The versatility of double-hung models justifies the window replacement cost. They come in a wide range of styles, sizes, materials, and colors so that you can pick the perfect one for your home or condo. Some common double-hung window types include:
Aluminum-clad
Architectural grade
Fiberglass
Fiberglass-clad
Vinyl-clad
Wood
As long as you maintain your windows properly, they'll last more than 20 years. The many advantages of double-hung windows make choosing the best replacement windows less of a hassle for you and your family.
Cons of Double-Hung Windows
All or Nothing Replacement
Why does a double-hung window cost more to install? Because the installation is all or nothing. You won't reap any of the benefits of high-quality windows if you only put one of them in one room. If you want to maximize your return on investment, you need to replace them en masse.
A complete overall of your windows will allow you to notice a difference immediately. It can also drive up your home improvement project cost. However, if you commit to full-scale window replacement, you can pay down the initial investment over time. The window's energy savings will translate to significant savings every month that you have them.
Hardware Maintenance
Some window types require more maintenance than others. For example, double-hung and sliding windows need regular lubrication on the tracks to keep the sashes functional, while an awning window requires minimal care. If you don't apply the lube, you'll have difficulty opening or closing your single- or double-hung windows.
You'll need to do some extra maintenance to maximize your windows' longevity, too. Double-hung windows have springs that keep the sash open and brace the window when you lower it. If these springs fail, the window will fall instead of staying in place. Then, you might have to start replacing windows all over again.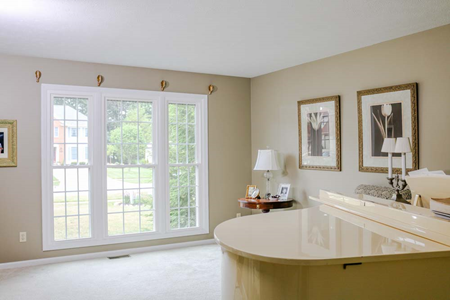 Factors That Affect Double-Hung Window Costs
There are dozens of factors that influence the cost of window replacement projects. For starters, consider the replacement windows' material. Vinyl stands out for its low average cost and solid return on investment. Many homeowners also invest in wood for its visual appeal and durability.
Let's say you need someone to install ten 48-inch full-frame windows.Vinyl would cost you anywhere from $8,700 to $10,800. Wood comes with a slightly steeper price tag, running between $11,500 and $13,000.
The size of your double-hung replacement windows matters, too. Some manufacturers only offer incremental sizes. They cost less upfront than custom windows but don't have any room for personalization unless you want to add a grille.
Even your color choice can impact window cost. Most manufacturers only produce white replacement windows, though some offer color customization. While a customized option will drive up the window installation cost, you'll likely have a more cohesive home exterior.
Glass type and amount can also affect a home improvement project's budget. As a rule of thumb, the more panes you need, the higher the window costs. Triple-pane windows cost more than double-pane, which cost more than single-pane.
Multi-paned windows usually have argon or krypton between the panels. Manufacturers insert the inert, clear gas to displace air between the panes. The thermal regulatory properties will improve your home's energy efficiency.
Finally, window installation prices vary based on the project's complexity. For example, double-hung windows are among the most popular window types in the country. Most professionals have experience replacing them, which lowers the replacement costs.
Bow and bay windows lack the same straightforward approach. These models require reconstruction work during the installation, making them more time and labor-intensive. Additionally, some models require removal of the existing frame or a brand-new opening for the replacement window, requiring the installer to remove the studs and apply new headers.
Contact Us
Ready to replace your double-hung windows? Our team at Universal Windows Direct can help. We have more than 27 years of experience and industry-leading rates. Give us a call at (513) 755-1800 for a free window replacement cost estimate today.
Frequently Asked Questions
Most professional window installers charge between $100 to $250 to install double-hung windows, but that price is only for the labor. The exact price tag will vary based on several factors, like replacement window brands and the project's scope. Some installers may offer a discount if you need to replace your windows in bulk.
Double-window replacement costs range from $550 and $3,000 per window. The window itself makes up most of the expense, with the average window costing between $450 and $2,000.
Expect to pay $1,100 to $6,000 to replace two windows. The project cost will depend primarily on what type of windows. For example, top-rated bow and garden windows can retail for more than $5,000. However, if you need to install awning or storm windows, you'll pay a fraction of the price.
It's no secret that window installation costs can be steep, regardless of the type of window. Fortunately, there are a couple of ways you can save money. Start by shopping around at various window companies. Remember to try to negotiate a lower price. Some sellers offer a discount for those buying and installing windows in bulk.
Second, consider using cheaper material. Vinyl windows are less pricey than fiberglass and solid wood windows. If you want to maximize your savings, recycled vinyl windows are among the least expensive.
Third, avoid unnecessary extras during the window installation process. Say no to optional features like between-glass shades, integrated grilles, and laminated exterior glass. While these add-ons can add value to your home, they may not justify extra replacement window costs.